Specifications 60% rated duty cycle portable tig 160 welding machine
welding machines
good quality
competitive price
MOQ:10 pieces


60% rated duty cycle portable TIG-160 inverter welding machine
Model :TIG-160/180/200/250/300/400/500
MAIN TECHNICAL PARAMETER
MODEL ITEM

TIG-180

TIG-200

TIG-250

TIG-300

TIG-315

TIG-400

Input power voltage,Frequency (V,HZ)

AC220V (SINGLE PHASE) ±10% 50/60 HZ

AC380V (THREE PHASE)±10% 50/60 HZ

Rated input power capacity (KVA)

3.9

4.5

6.3

8.3

11

13

No-load voltage (V)

56

56

54

54

65

55

Output current adjustment range (A)

10-180

20-200

20-250

20-300

10-315

20-400

Rated output voltage (V)

17.2

18

20

22

30

26

Rated duty cycle (%)

60

60

60

60

60

60

No-load loss (W)

40

40

40

60

60

100

Efficiency (%)

85

85

85

85

85

85

Pover factor (COSφ)

0.93

0.93

0.93

0.93

0.93

0.93

Gas post-flow time (S)

0-2.5

0-5

0-5

0-10

0-15

0-12

Arc force adjustment range (A)

-

0-60

0-60

0-60

10-315

0-100

Welding thickness (MM)

0.3-5

0.5-12

0.5-12

0.5-14

0.5-25

0.5-20

Current of MMA

10-160

20-200

20-220

20-230

20-400

20-380

Weight (KG)

8

13

19

21

37

35

Measurement (MM)

371x155x295

371x155x295

480x205x355

480x205x355

520*265*490

560x335x420

Insulation class

F

F

F

F

F

F

Protection class

IP23

IP23

IP23

IP23

IP23

IP22IP23
Standard Accessory List
1.A set of welding torch.
2.A set of electrode holder with fast coupling device.
3.A set of earth clamp with fast coupling device.
4.Two meters of gas carring hose with two clips.
5.A piece of tungsten.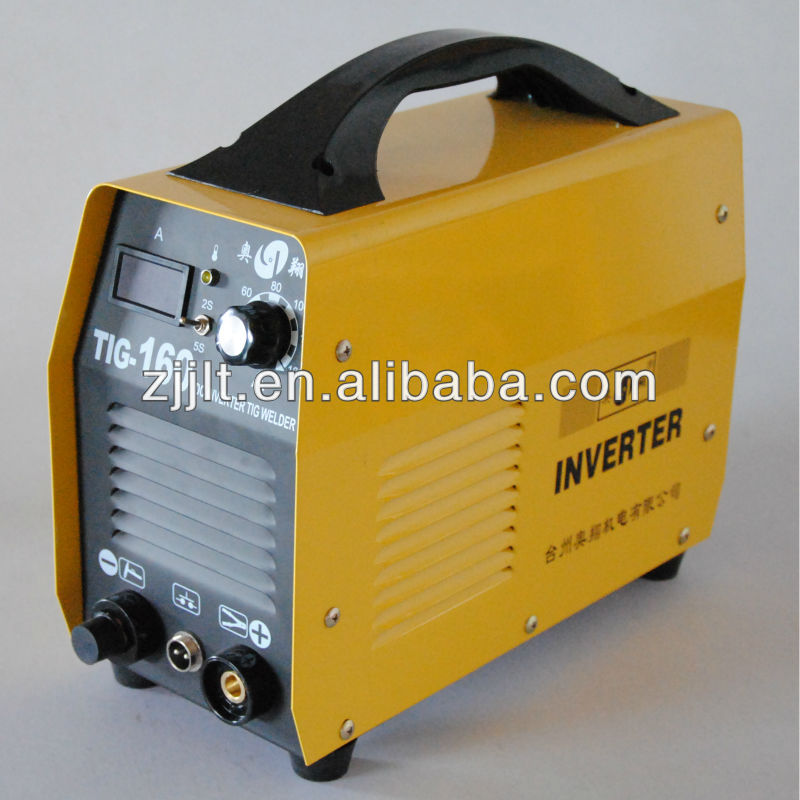 Characteristic
1.Small measurement, portable, multi-purpose with TIG&MMA function.
2.HF arc staring with little current.
3.ARC FORCE can be adjustable, stronger welding penetration with stable current,high speed of dynamic-response.
Feel free to contact us if you are interested in our electric motors.
Email:cnjlt4 at cnjlt.cn
Msn:angelaye88 at hotmail.com
Skype:angela.ye8
Mob:86-15957658135