Go to www.lunyee.com to download catalogue and get quotation for this model!
100W~3.7KW high torque ac gear motor
Vertical AC Motor
Features:
1.Basic stctrue:ZH(Horizonal),ZV(Vertical)
2.Output:100W,200W,400W,750W,1500W,2200W,3700W
3.Gear ratio:3,5,10...1800
4.Motor basic data:
S:3-phase motor,220-240/380-415V,50/60Hz
C:1-phase motor,220v,50-50Hz
E:1-phase motor,110v,50/60Hz
DV:Double Voltage motor,110/220V,50Hz/60Hz
Z:Light type duty
5.Brake unit: B: DC90V brake unit YB: With rsisase brake unit
6.Output shaft diameter:18mm to 60mm
AC Gear Motor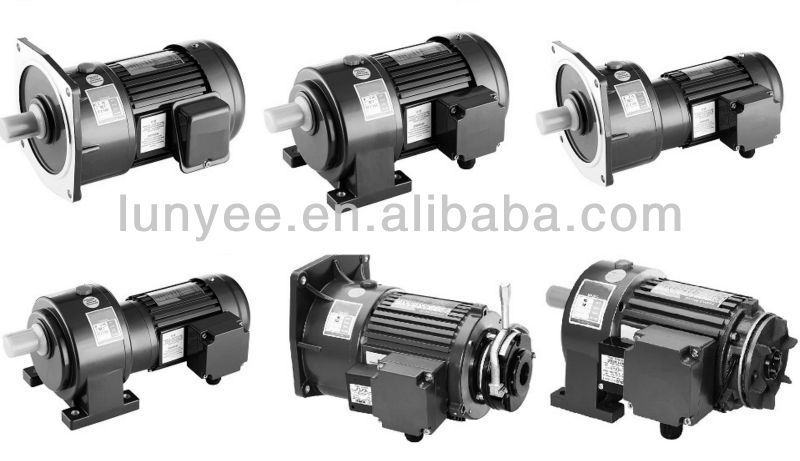 Chengdu Lunyee Industries Development Co., Ltd. is a leading manufacturer and exporter for factory automation(FA) products!We are dedicated in power transmission and motion control solutions!
We manufacture power transmission products like AC gear motor,DC gear motor,high precision planetary gearbox for servo motor and stepping motor,linear motion products like linear bushing,linear guide,ball screw,locking nut and coupling and so on!
Please inform us you needed power, voltage, gear ratio of output speed so that we can confirm suitable model of gear motor for quotation!
Visit us at www.lunyee.com contact us by email info(at)lunyee.com
or|Getriebemotor|motoréducteur|Vaihdemoottorilla|reductiemotor|