single phase ac induction motor 180w 2800rpm


Welcome to visit our website. http://www.zjjlt.en.alibaba.com/

We are a manufacturer but we can also supply the OEM servic e, Special motors can be designed according to customers' requirements .

Product Description

Product Information:

JY Series single-phase capacitor start induction motor is suitable for any where a larger starting torque and the starting current to be limited are required, and is used as driving motor of air compressors, refrigerators, medical apparatus and other small machines in which full-loaded starting is demanded.

These series motors having 3 frame sizes 09, 1 and 2 are of totally enclosed fan cooled. The frames are made of cast iron or cast aluminum according to the request.
Type

Input Power

Current(A)

Power Factor

EFF(%)

Speed(r/min)

KW

HP

JY09B-2

0.18

1/4

2.15

0.76

50

2800

JY09A-2

0.25

1/3

2.82

0.76

53

2800

JY1B-2

0.37

1/2

3.74

0.75

60

2800

JY1A-2

0.55

3/4

5.36

0.74

63

2800

JY2B-2

0.75

1

6.81

0.77

65

2800

JY2A-2

1.1

1.5

9.45

0.79

67

2800

JY09B-4

0.12

1/6

1.7

0.63

48

1400

JY09A-4

0.18

1/4

2.52

0.65

50

1400

JY1B-4

0.25

1/3

3.2

0.67

53

1400

JY1A-4

0.37

1/2

4.03

0.72

58

1400

JY2B-4

0.55

3/4

5.12

0.74

66

1400

JY2A-4

0.75

1

6.92

0.68

67

1400
CAST IRON BODY :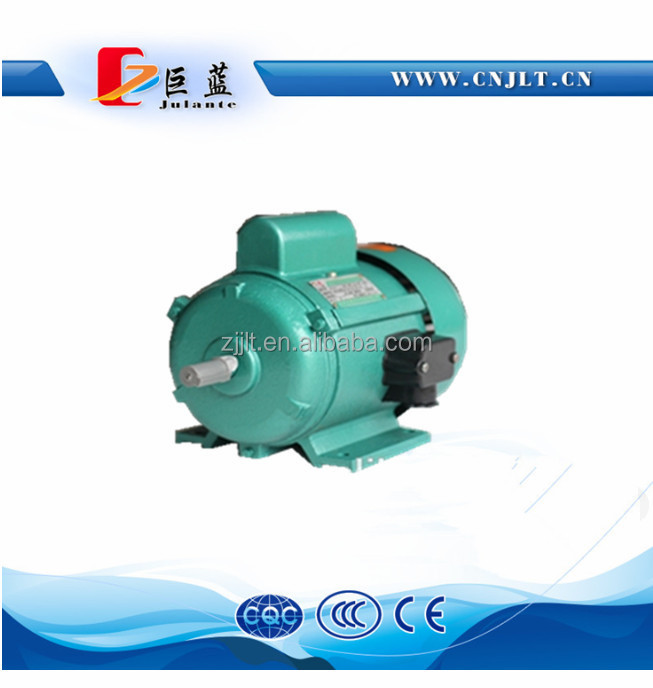 Contact Person: shasha yan
Email: cnjlt1@ cnjlt .cn
Skype: ysschloe
Mob: 86-13958661287
Office Tel : 0576- 86405021
fax : 0576- 86405021