Specifications 12mm-80mm suitable stack height
stable quality
OEM supplier labor saving stable quality high automation


Automatic four-station electric motor stator coil winding machine for 12mm-80mm suitable stack height with stable quality
JK-RX03 main introduction
This machine is used for the first process of motor stator producing, it conducts gang control the machine winding main shaft, transfer cup indexing shaft, dip mold motor shaft through PLC control system assembly, and winds various types of enamelled copper/aluminum wires. It has advantages of winding premeter accurate, winding neat arrange, high production efficiency, saving labour, simple & reliable maintenance etc.
Adopts 4 turning stations, no interference for the coil winding and load/unload
coil turns accuracy 0.2 turn
more than 200 types of winding parameters could be stored
machine adopts Chinese/English HMI operating control, and has function of breakdowns self-diagnosis;
industrial PLC and controlling system: MITSUBISHI from Japan.
Technical parameter
Technical Data

Wire diameter range

0.15-1.5mm

Max. winding speed

2200RPM

Max. coil segments

5

Suitable stack height

12mm-80mm

Suitable motor poles

2,4,6,8

Air pressure

0.4-0.6MPa

Power supply

380V/50Hz Three-phase four-wire

Power

5KW

Dimension (L*W*H)

1750mm * 840mm * 2200m

Weight

≈1600kg

All the referanced technical parameters can be designed and manufactured according to customer's request.
JK-RX03 detail pictures display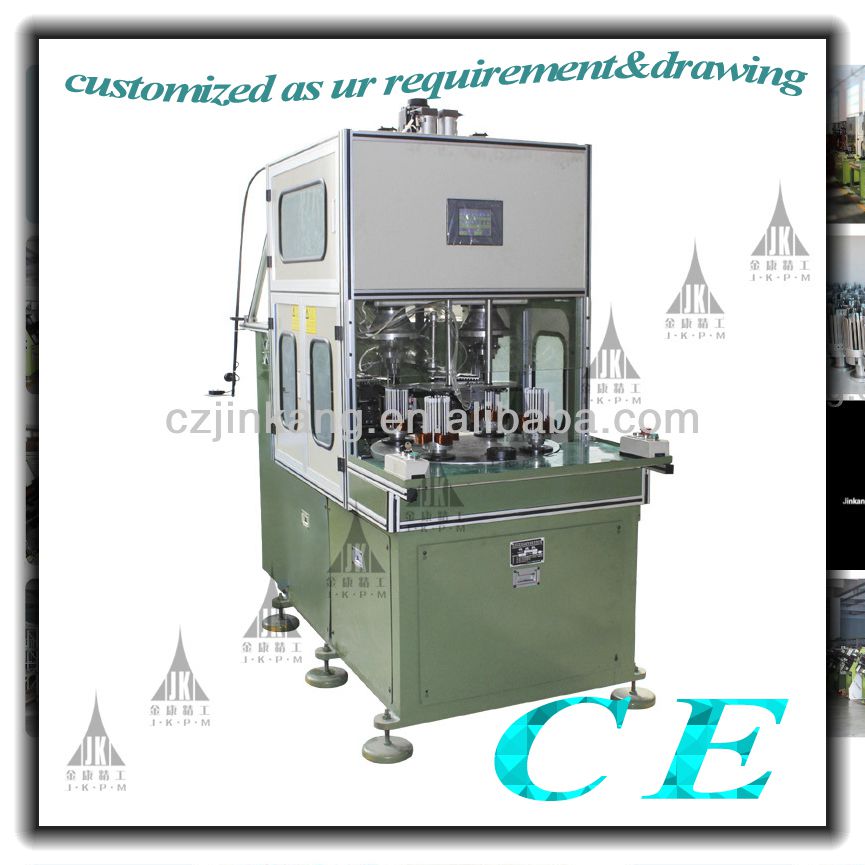 OEM supplier:
Innovational technical team provides completely perfect technical solutions, to satisfy every customer's unique requirement;
Specialized after-sale team and engineers offer superior quality, rapid after-sale service door to door, to solve customer's all after-sale problems;
Wide spreaded domestic after-sale service service network stations and overseas agencies ensure of powerful after-sale service;
Multi-communication methods and full time customer service personnel dispel customer's after-sale scruples 24 hours.
Jinkang means Professional, Quality, Service.