Specifications Motorized bike kit:
1.Motor:Brushless hub motor
2.Display:LED/LCD display
3.Battery: rear rack battery
4.Easy to install

Product Description

Brushless geared motor: brushless motors have more sophisticated controllers than brushed motors, and there are many more connections from the motor to the controller.
Built-in controller: no messy exposed wirings, less connection problems, easy to install, neat looking products.
Strong climbing torque: achieved by using strong rare earth magnets, innovative motor design, and top quality mosfets used.
Kit Name

Motor

250W brushless hub motor

front or rear wheel applied, diameter 100mm for front and 135mm for rear, disc brake /V brake applied

Rim and spokes

Double wall Aluminum Alloy rim, with 12g/13g stainless steel spokes

Throttle

Twist or thumb throttle for option, with classical or waterproof cables

Controller

36V, 6mosfet/ 9mosfet/12mosfet available, and hall optional

Wheel

Hand-built motor wheel, 16''20''24''26''700C28'' available

PAS

1:1 intelligent pedal assistant system.8pcs/12pcs strong magnets

Battery

Lead acid battery, 10ah/12ah

Rack carrier battery, 7ah--15ah available

Seat post battery/tube battery/frog battery, 8ah--10ah available

Brake levers

Aluminum alloy, in black color

Charger

110~240V, AC 50~60HZ, 2A

Display

LED/LCD display, with classical/waterproof cables

Accessories

Separate motor line, ZIP ties, protection pipes, screws, controller case/bag

N.W./G.W.

12kg/15kg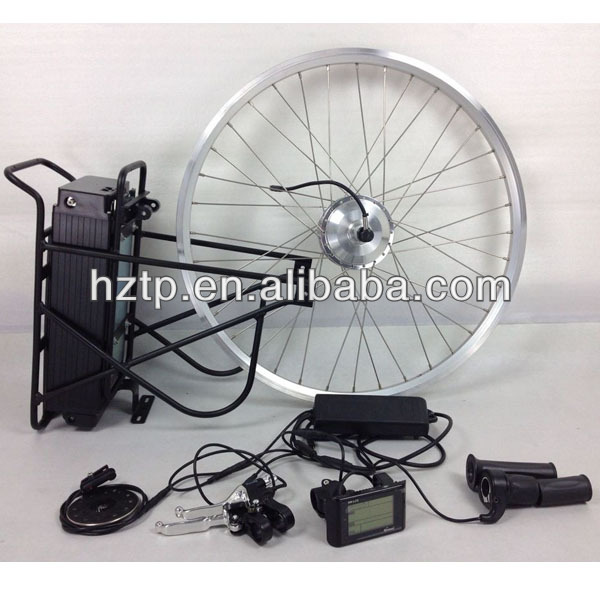 We offers our own products under various brand names and provides OEM services to some of the world's most elite cycling and LEV manufacturing companies. Welcome your inquiry.

FAQ

Q: What is the electric bike conversion kit?

A: The kit is designed to transform your standard bicycle(manual pedal power)to an electric-powered by a motoe and battery pack. Q: Will the conversion kit fit my bike?

Q: Will the conversion kit fit my bicycle?

A: The conversion was designed to fit 90% of the bicycles, and you can check your bicycle fork(the two metal pieces that attach the wheel to the bicycle) to be sure. You will need at least 100mm for front wheel and 135mm for rear wheel.

Q: Does the electric bicycle waterproof?
A: Yes. You can ride our electric bikes in the light rain without worrying about damaging the electric components.

Q: Can the bicycle be ridden with just pedal power?

A: Yes. The choice is yours - battery power, pedal power or a combination of both.

Q: How fast will it go?

A: The Max speed of the kit is 24km/h and faster as you pedal.

And more queations please click here:FAQ