Specifications 1)cooper wire motor
2)CCC CE
3)IP44/IP54
4)0.75KW-315KW
5)low noise /litter vibration ac motor


Y132S-4 series ac motor for squirrel cage induction motor
Ac motor,Asychronous motor,Electric motor,Induction Motor.

3) Rated voltage: 380/660v
4) Frequency: 50Hz, 60Hz
5) Protection class: IP54
6) Insulation class: B,or F
7) Materials: cast iron(63-355), aluminum (FRAME 63-160)
8) EFF: EFF3, EFF2, EFF1
9) Poles: 2, 4, 6, 8,
10) Cooling method: IC411 (total-enclosed fan-cooled type)
11) Mounting types: IMB3, IMB5,IMB35
12) Operating mode: S1
13) Connection: "Y" type for 3kW and downwards, "D" type for 4kW and upwards
14) Ambient temperature: -35oC and 40oC
15) The altitude should be lower than 1,000m above the sea level
16) Relative humidity: not higher than 90%
17) Special motors can be designed according to customers' requirements
Inner packing:
1) Frame 63-112: foam boxes
2) Frame 132-315: wooden boxes
Mounting ways:IMB3(foot mounting),IMB5(flange mounting),IMB35,IMB14.

BENIFITS TO CLIENT:

Reliable operation
High efficiency
Low noise
Long life
Power saving
Slight vibration
Try our best to meet customers' requirements, including voltage and frequency etc.
It is newly designed in conformity with the relevant rules of IEC standards
Special rotor balance for reduced vibration
Warranty: 12 months from date of delivery.


Manufacturing process:
Stamping of lamination
Rotor die-casting
Winding and inserting – both manual and semi-automatically
Vacuum varnishing
Machining shaft, housing, end shields, etc…
Rotor balancing
Painting – both wet paint and powder coating
Motor assembly
Packing
Inspecting spare parts every processing
100% test after each process and final test before packing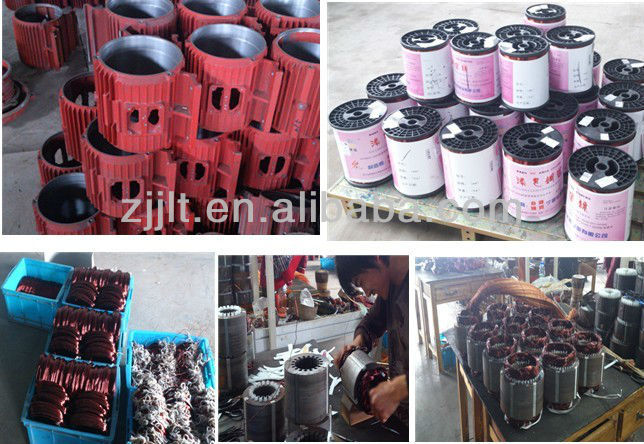 Feel free to contact us if you are interested in our electric motors.
Contact information
Contact Person: shasha yan
Email: cnjlt1@ cnjlt .cn
Mob: 86-13958661287
Office Tel : 0576-86405027