Specifications Drive Motor Permanent Magnet
Magnet Grade : From N35 to N52
Size : From 1mm to 220mm
Competitive price+short time delivery


Drive Motor Permanent Magnet

Drive Motor Permanent Magnet We produce and sell NdFeB Magnet in various shapes(segment, block, cube, cylinder, disc, ring, rod, sphere, etc)with different grade

Product Description

Drive Motor Permanent Magnet ( HS Code : 8505119000 )

1. Meterial: Neodymium, NdFeB

2. Technology: Utilizes new Sintered NdFeB magnet techniques and equipment such as strip casting, HDDR technology

3. Magnetic properties: High coercive force, the max operation temp is up to 200 degree centigrade or 380 curie temperature;

4. Grades: N33-N52, 33M-48M, 33H-48H, 30SH-45SH, 30UH-38UH and 30EH-35EH;

5. Shapes and sizes: Various kinds or according to customers' request .

6. Coatings: Ni, Zn, Phosphating, epoxy and so on;

7. Motor magnet Applications: Widely used in different applications, such as sensors, motors, rotors, wind turbines/wind generators, loudspeakers, magnetic hooks, magnetic holder, filters automobiles and so on.

8. Quality Control : Our QC team consistsof more than 12 professional people to ensure 100% products high quality .

9. Extremer Power Warming : These magnets are dangerous ! If your fingers are trapped between two they will cut your skin . Please be note they should only be handled with great care .

10. Transportation : All available shipping ways could be applied ,by courier ,by air or by sea . Appinted shipping company or our own forwarders all could be used in shipment . Full-way tracking the cargos for you before th good arrival .

Our factory can also manufacture various sizes of other NdFeB magnets, according to the customer's specification

Shapes :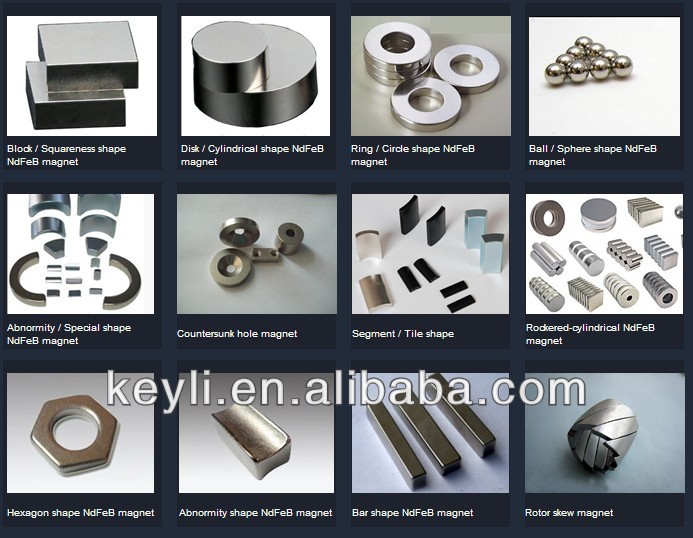 Welcome to Contact with us free !