The same points and different points between high efficiency motors and general motors.
Same points:
Both of them have the same frame sizes, same mounting dimensions. There is no need to change the mounting sizes of the original mechanical mounting dimensions.
Different points:
1) The high efficient motor with higher efficiency, less power consumption when the same output power, more energy-saving.
2) The materials are used are different. Mainly are silicon, magnetic wire, aluminum for rotor connection and insulation materials.
3) The electromagnetic design is different.
4) The manufacturing process requirement is more stringent.
5) There are differences between the motor shape. (Heat-sink, fan, fan cover, etc.)
6) The speed of high-efficiency motor is higher than the low efficiency motor.
7) The energy labels of latest standard GB18613-2012 are put up on the high efficiency motors.
8) The treatment is different: One is actively promoted, the other one must be eliminated.
Why choose high efficiency motor?
For example: engergy-saving data contrast at 7.5KW, 4-pole motor
Type

Power

(KW)

Energy Efficiency Grade

Voltage

(V)

Current

(A)

Efficiency

(%)

Power Factor

Cos

IEC 60034-30

China GB18613-2006

YE3-132M-4

7.5

IE3

Grade 1

380

14.02

91.5

0.888

YE2-132M-4

7.5

IE2

Grade 2

380

14.71

90.1

0.86

Y2-132M-4

7.5

IE1

Grade 3

380

15.23

87.0

0.85
Note: The aboves are electromagnetic calculated values.
From the above data sheet, we can see that the efficiency and power factor are lower than high efficiency motors for universal motors, leading a larger current consumption. While high efficiency motors with higher efficiency and highly improved the power factor in order to make all system save more electricity energy.
Theoretical analysis of the average annual electricity-saving:(Suppose that 1 year is 350 days and one day has 20 hours)
Y2-132M-4: Annual running power consumption for 1 year: T =7.5/0.87×20×350=60345 degree.
YE2-132M-4: Annual running power consumption for 1 year: T =7.5/0.901×20×350=58269 degree.
YE3-132M-4: Annual running power consumption for 1 year: T3=7.5/0.915×20×350=57377 degree.
T1-T2=20756 degree; T2-T3=892 degree;T1-T3=2968 degree
Fom the above data, we can see that one set 7.5KW motor with IE2 can save 2076 degree power one year compared with IE1 at 7.5kW. IE3 motor can save 892 degree compared with IE2 motor, IE3 motor can save 2968 compared with IE1 motor.
Type:YE2-80~YE2-355
2:Frame size:H80-H355
3:Connection ways:Start-connection for 3KW or less while delta-connection for 4KW or more
4: Duty: continuous(S1)
5: Insulation class:F
6: Protection class:IP55
7: Cooling method:IC411
8: Ambient temperature:-15-40
9: Fixture Altitude:not exceeding 1000m above sea level.
10: Usage: it is widely used for most applications.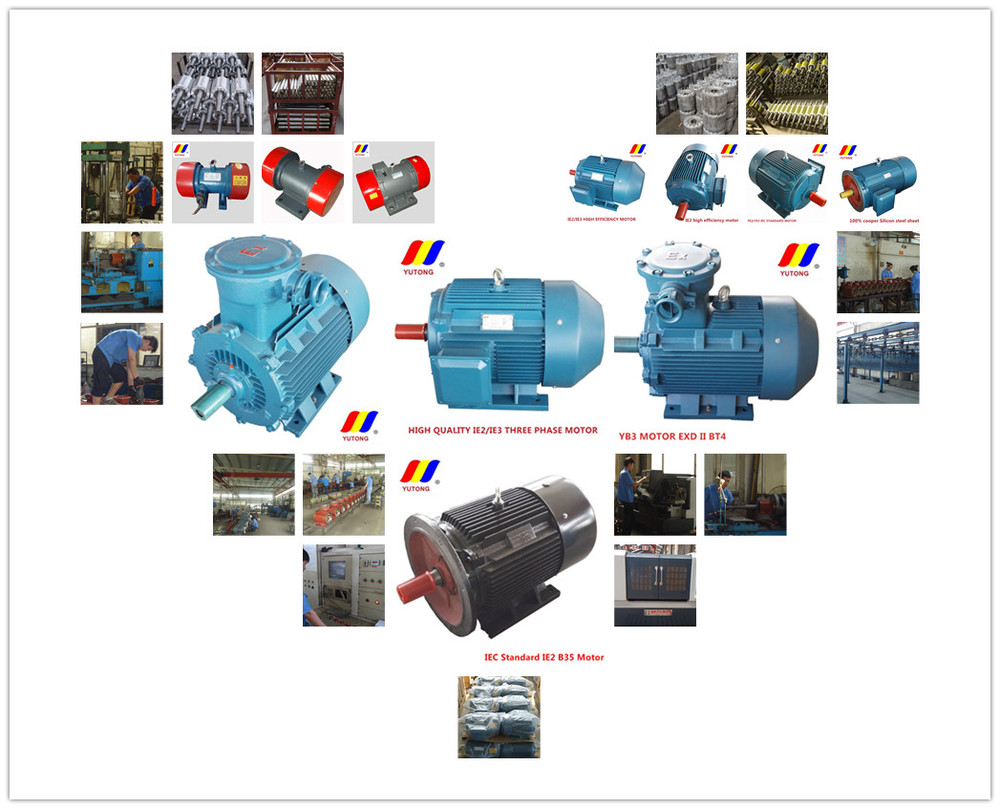 Our Service---We Cherish Every Order From Every Customer.
Punctual delivery time:
•We put your order into our tight production schedule, ensure your punctual delivery time.
•Production / inspection report before your order packed.
•Shipping notice/ insurance to you as soon as your order is shipped.
Pre-sales service:
•We value every inquiry sent to us, ensure quick competitive offer within 12 hours.
•We cooperate with customer to design and develop the new products. Provide all necessary document.
•We are a sales team, with all technical support from engineer team.
After sales service:
•We respect your feed back after receive the goods.
•We provide 12-24 months warranty after goods arrive.
•We promise all spare parts available in lifetime use.
•We loge your complain within 48hours.