large ac motor

General Introdution:

1.Y2 series three-phase asynchronous motor is Y series motor the upgrading of product, is the totally enclosed, fan-cooled induction motor for general purpose . It was the newest product in the 90S' ,its overall level has reached the same products abroad at the beginning of 90S'level. The product apply to economic lake-off fields, such as machine tools, water pump, fan, compressor, also can be applied to transportation, stirring, printing, agricultural machinery, food and other kinds of excluding inflammable, explosive or corrosive gas.
2.Y2 series three-phase asynchronous motor installation size and power grade in conformity with relevant standards of IEC and Germany DIN42673 standard line and Y series motor, its shell protection grade for IP54, cooling method for IC41l, operate continuously (S1). Using F insulation class and grade B assessment according to temperature .

3.Y2 series three-phase asynchronous motor the rated voltage is 380 V. rated frequency is 50 Hz. 3 KW the following connection is Y , other power are delta connection . Motor running the place at no more than 1000 m; Environment air temperature changes with seasons, but no more than 40 °C; Minimum environment air temperature is-15 °C; The wet month average high relative humidity is 90%; At the same time, this month is not higher than the lowest average temperature 25 °C.

Detailed Specifications: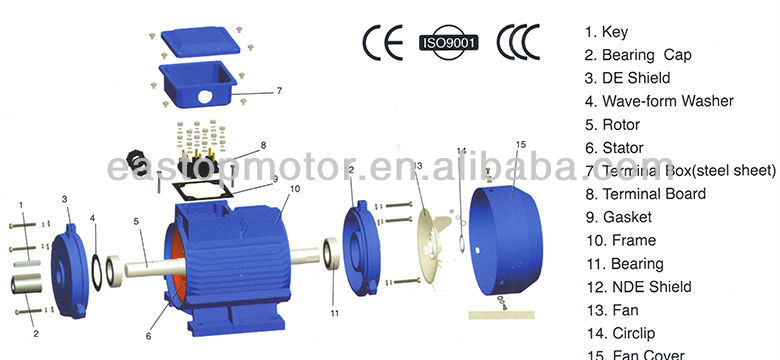 Your Smile is Our Support!