12v low speed gear stepper motor electric motor with reduction gear:35BY48HJ
Geared DC Motor,Geared DC Motor 12V
Applications: Tap control,Air door control ,Medical machine,Robot
Ambient Temperature: -10℃—55℃
Insulation Resistance: 500V DC 100MΩMIN
Insulation Class: E
Specifications
Geared DC Motor

Step Angle
(Deg)

Gear Ratio

No.of
Phase

Volt.
(V)

Current
(A)

Resistance
(Ω)

Pull-in Rate
(PPS)

Pull-in Torque
(N.cm)

Wdg.

Fig.

Weight
(g)

35BY48HJ4.5

7.5/4.5

1:4.5

4

12

0.4

30

450

6(100pps)

a

1

150

35BY48HJ6.3

7.5/6.3

1:6.3

4

12

0.4

30

450

8(100pps)

a

1

150

35BY48HJ11B

7.5/10.8

1:10.8

4

12

0.4

30

450

15(100pps)

a

1

150

35BY48HJ17.5

7.5/17.5

1:17.5

4

12

0.4

30

450

20(100pps)

a

1

150

35BY48HJ30

7.5/30

1:30

4

12

0.27

45

400

30(100PPS)

a

1

150

35BY48HJ75

7.5/75

1:75

4

12

0.27

45

400

50(100pps)

a

1

150

35BY48HJ120

7.5/120

1:120

4

12

0.27

45

400

60(100pps)

a

2

150

35BYHJ120

7.5/120

1:120

4

12

0.27

45

400

60(100pps)

a

3

150
Wiring Diagram: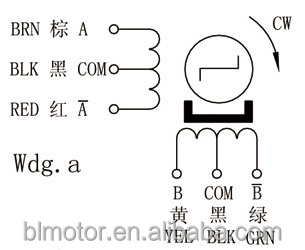 FAQ

Question 1: How to choose the suitable stepper motor?

Answer: There are serveral important items: size, length of stepper motor, holding torque, voltage, current etc.After confirm some them and told us, we can send you the suitable one.

Question 2: Any other methods to finalize the model?

Answer: Sure, you can send us the model you are using, we can hep you find the suitable one.