Specifications 1. Low rated rotation speed
2. Nd-Fe-B rare earth material, high efficiency
3. lower start up torque
4. corrosion proofing


wind alternator generator permanent magnet low rpm 24v dc 380v
product description
Use wind energy to generate electricity and charge into storage battery group.
Through the multi-voltages power supply system, the electricity can be changed into DC and AC
used for illumination, home appliances, communication devices and electric tools.
This unit includes blades, blades rotor, rotor, permanent magnet generator, tail vane and hardware.
It is great for cottages, sailboats, docks, boathouses and more. Low-noise aerodynamic fiberglass blades feature a weatherproof, industrial-strength design.
Details:
Rotor: Rotor efficiency can reach 42%, noise level is less than 65 dB, strict balance adjustment before leave factory.
Generator:Rotor driven directly , low RPM (rotating speed), permanent magnet , Overload rate 150%
Use NdFeB35SH Strong Magnetic materials
Excellent bearing (NSK ), long-lasting grease, run 30,000 hours without maintenance
wind turbine off-grid working system normal data:
Model

FD2.2- 3.0

FD2.5-0.5

FD2.8-1.0

FD3.2-2.0

FD4-3.0

FD5.4-5

FD8-10

FD10-20

Rated power

300w

500w

1kw

2kw

3kw

5kw

10 kw

20kw

Rotor diameter (m)

2.2

2.5

2.8

3.2

4

5.4

8

10

Blade quantity

3

3

3

3

3

3

3

3

Start-up wind speed (m/s)

3

3

3

3

3

3

3

3

Working wind speed (m/s)

3.0-20

3.0-20

3.0-20

3.0-20

3.0-25

3.0-25

3.0-30

3.0-30

Survived wind speed (m/s)

35

35

40

40

40

40

45

45

Start torque (n/m)

0.5

0.8

1.5

2

3

4.5

7.5

10

Rated wind speed ( m/s)

8

8

9

9

10

10

12

12

Max power (w)

500w

750w

1.5kw

3kw

4.5kw

7.5kw

17kw

30kw

Rated rotate speed ( rpm)

600

550

470

430

300

260

200

200

Blade material

Fiberglass –reinforced Plastic

Working voltage ( v)

DC12~48V AC 110~220V

DC24~300V

AC 110~220V

DC48~360V

AC 110~380V

DC240~500V

AC 110~380V

Generator Type

PM ,3-phase, AC

Speed regulation method

Electromagnetic brake + yawing

Stop method

Electromagnetic brake + manual

Wind turbine Main body weight (kg)

40

45

75

90

260

360

1300

1400

Guyed wire tower weight (kg)

67kg/ 6m

67kg/ 6m

72kg/ 6m

77kg/ 6m

255kg/ 8m

265kg/ 9m

/

/

Independent tower weight (kg)

230kg/ 8m

237kg/ 6m

358kg/ 8m

358kg/ 8m

880kg/ 9m

1000kg/ 10m

3200kg/ 18m

3350kg / 20m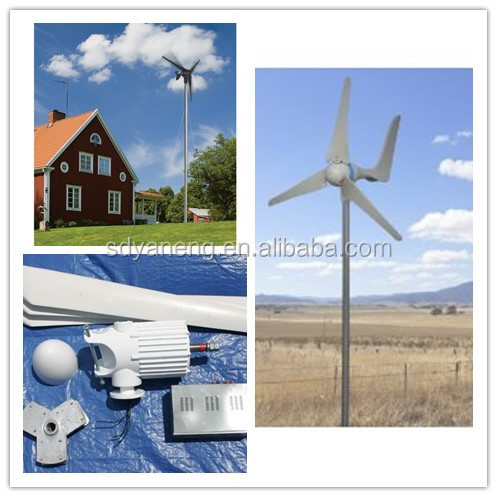 You can contact me via Skype: taylorgao2013
QQ: 1178035719